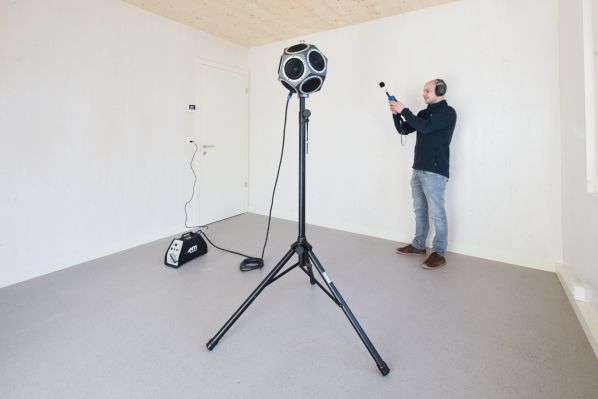 Badly soundproofed timber buildings are history
Properly planned wooden houses are comfortable and healthy to live in. Noise insulation in particular is attributed great importance in modern timber construction projects. Our team is therefore continuously educating itself and recently attended the building acoustics workshop with "NTi Audio".
In the past, wood was more sensitive to sound than concrete. Today timber construction easily meets the sound insulation regulations. The most important element is multi-layered building components with good separation of the individual layers, which interrupt all sound by-passes. Good sound insulation also requires heavy but flexible layers. Bulk materials have proven to be the best solution.
The Timbatec team at the building acoustics training with "NTi Audio».
Timbatec is a leader in the planning of complex timber construction projects. We guarantee an all-round package and therefore have expertise beyond the pure structural design. An increasingly important topic is building physics and, in connection with this, sound insulation. We plan good noise protection concepts for our customers and check them with sound measurements. Thanks to quality assurance, we can continuously develop our constructions further.
Sound measurements with the Japanes Ball
We have our finger on the pulse of time in building acoustics measurements. We carry out sound measurements not only with the "Hammerwerk" as the sound source, but also with the Japanese ball. The Japanese Ball reproduces well the low frequencies with frequencies below 100 Hz. This is an important quality assurance instrument for us. Because: with the standard "Hammerwerk" the measured values are represented according to the standard, but building users can feel disturbed by low tones despite fulfilled measured values.
Above: Sound measurement with the Japanese ball. 
Below: The Timbatec team at the building acoustics training with "NTi Audio".