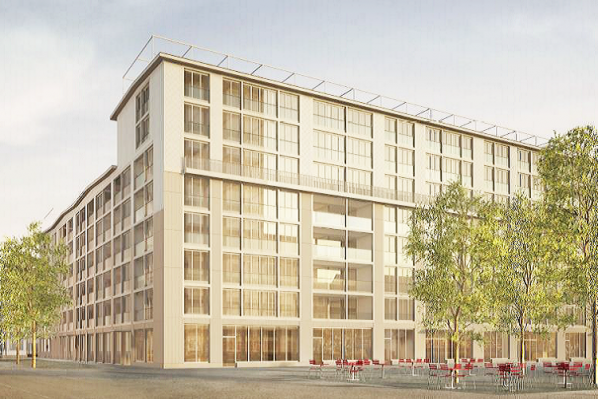 Liquid concrete for staircase
In large construction projects, construction workers often concrete the stairwell core first. Carpenters then mount the prefabricated wooden components on it. Timbatec reversed this sequence during the construction of Lokstadt in Winterthur. The wooden structure is erected, then liquid concrete is filled in. This saves time and money.
The staircase cores serve as static stiffeners for the buildings and ensure emergency escape routes in the event of a fire. They are often erected when not much is visible on the construction site except for the basement. Later the carpenters come with the prefabricated wooden elements and adapt them to the concrete staircase cores. This was not the case with the crocodile in the superstructure in Winterthur, where the timber construction was erected first. It  served as formwork for the concrete. The reversal of the work steps is the logical consequence of today's way of working. The timber constructors expect smaller tolerances than the concrete constructors. The timber elements prefabricated in the factory are manufactured to an accuracy of a tenth of a millimetre. This accuracy is not possible when concreting on site.  
Time and material saved
The innovative process was developed by Timbatec for the crocodile. It is efficient and resource-saving at the same time. Steel profiles and screws can be used more economically: Thanks to the process, the crocodile can be built without 24 tons of steel, five thousand heavy-duty anchors and more than ten thousand screws.   
The Lokstadt superstructure in Winterthur is a project of Implenia Switzerland. Information on this exciting major project can be found on the website www.lokstadt.ch.  
Further information about the House of Crocodile and Timbatec's services in this project can be found here: Link to the reference sheet. 
The three-layer panels are at the same time the inner wall on the inside of the room and the formwork for the staircase core made of concrete. Unlike conventional construction methods, the three-layer panels do not have to be removed after the concrete has dried out.   
Insight into the stairwell core with the concrete formwork on one side and the three-layer panel on the other.