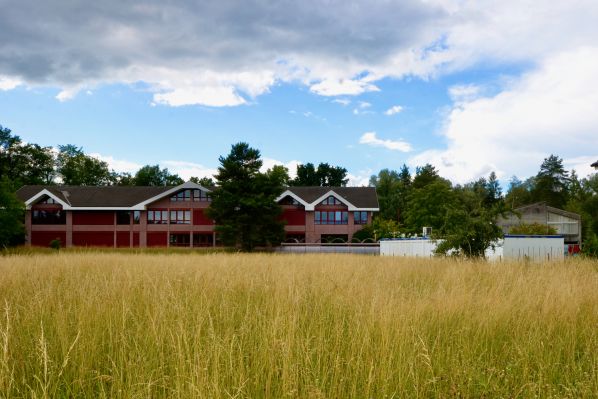 New classrooms for Dotzigen
Today the dismantling of the old special clearing wing begins. On August 7, the ground-breaking ceremony for the new timber construction of the specialist rooms takes place. A lot of spruce and beech wood from Switzerland is used for the construction.
The classrooms of the Dotzigen upper school in the canton of Bern have reached the limits of their capacity. In order to provide the pupils of the Büetigen-Diessbach-Dotzigen Association of Municipalities with the best possible conditions for teaching in the future, the electorate granted a building loan of 4.1 million francs in 2019.   
Construction work begins
First of all, the pollutants used in the 1970s must be carefully disposed of. Then the existing special clearing wing will be demolished and replaced with a modern timber construction.
Leimer Tschanz Architekten AG from Biel planned the 25-meter long and 18-meter wide structure. They defined a staircase of reinforced concrete for the access to the upper floors and for the bracing of the building. They did not place it in the middle of the building, thus enabling generous rooms. On the ground floor a music room for up to 100 people is created thanks to folding walls that can be opened or closed as required. When all folding walls are open, the room is 25 metres long and 10 metres wide.  
Exciting timber construction 
The span widths of 10 metres and the prescribed payload of 3kN (300 kg per square metre) for school buildings are a challenge for timber construction. However, with today's technologies and building products they can be easily solved.
A glued laminated timber beam made of Swiss beech wood spans the rooms. It transfers the loads from the upper floors to the outer walls. The beam has a dimension of 96x44cm. Thanks to clever construction and a suspended ceiling, only 40 centimetres of the beam are ultimately visible.