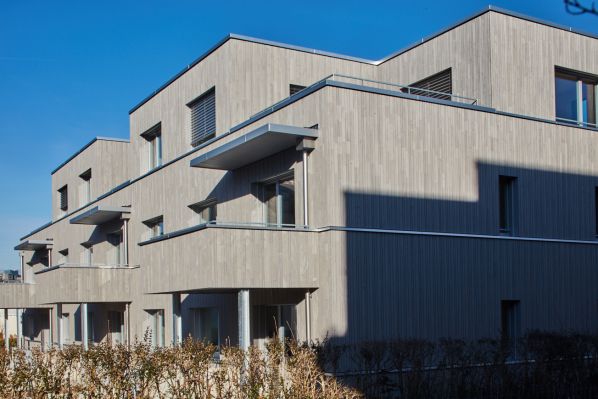 Multi-family house completely made of timber
In Berne Bümpliz, the parish of Berne built a new apartment building entirely from wood - including the elevator shaft and staircase. This week the first tenants are moving into their apartments. Timbatec was responsible for all timber construction engineering services.
The apartment building planned by Büro 21 Architekten is completely made of timber. The planners also consistently refrained from using concrete for the staircase and the lift shaft. This was possible due to the encapsulated structures made of cross laminated timber CLT and plasterboard. Walls and ceilings are also all made of CLT. The stairs are a solid construction made of oak wood. 
Visible wooden surfaces 
Timbatec has planned all wooden components meticulously. The planners defined each processing of the CLT-panels in advanced. The slits and holes for electric cables, lamps and power sockets were milled by the CLT producers in the factory. The cables for the installations are routed in the dry-bound chippings. Subsequent slitting of the panels for the installation of electrical cables is thus neither permitted nor necessary. This is the only way to ensure that the visible wooden surfaces on the walls and ceilings look good even after the construction phase.
Good sound insulation thanks to dry bulk filling 
Before the tenants moved into their apartments, Timbatec checked the sound insulation between the individual residential units. We use modern NTI Audio acoustic measurement equipment for this purpose.   
The dry bound fill on the floor slabs ideally insulates the impact sound between the apartments. The measurements also show good results with regard to the airborne sound insulation between the individual apartments.     
Wooden houses with poor sound insulation are a thing of the past. Correctly planned wooden buildings have ideal sound insulation. Anyone who wants to build sustainably needs intelligent building physics solutions With our profound expertise in all areas of building physics, we are happy to support you in your building project.
In addition to the NTI Audio acoustic measurement equipment, we use the Japanese ball for impact sound measurements.